New Mid-Range Vertical Lift Skid & Track Loaders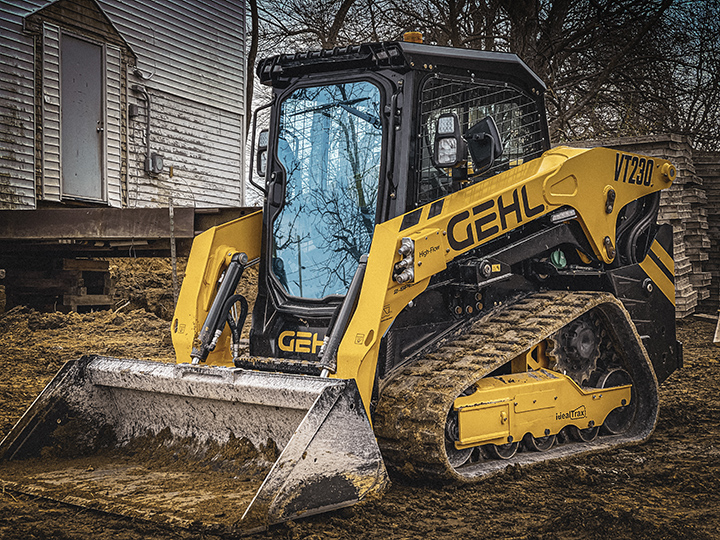 GEHL is pleased to announce the launch of three all new "V Series" compact skid steer loaders and three "VT Series" compact track loaders to the North American Market: V210, V230, V275, VT210, VT230, and the VT275.. 
These new models have a capacity of 2,100 lbs to 2,750 lbs. Nathan Ryan, Compact Loader Line Manager, says: "We have focused on improvements in five main areas: safety, comfort, productivity, simplification, and serviceability. All models are vertical lift and feature a new lift arm design. The driver's station has also been redesigned with an improved version of our patented folding door. The new cab also offers some of the best visibility on the market thanks to a new window and roof design."
The breakout force is now 12% higher on average (compared to the previous range) and the tank capacity is increased by 14%, allowing users to enjoy greater productivity. The new loaders feature keyless start requiring only code activation, LED lighting, and a patented Pilot joystick system as standard, adjacent to the operator's seat. Numerous innovations also facilitate maintenance with a lifting cab and centralized maintenance points. 
For added comfort, the track loader range is equipped as standard with the patented "IdealTrax" system, ensuring automatic track tensioning and extending the life of the tracks. Numerous options (additional LEDs on the sides, high hydraulic flow, rear camera, etc.) are also available to meet the requirements of each user. It is worth noting that the total cost of ownership (TCO) of these models has been reduced, with the VT 210 model, for example, boasting a TCO of only $20 per hour, representing an average reduction of 7.2% over the previous model range. With these six models, GEHL highlights its desire to streamline the design of its models by offering its users a simplified range that meets all their needs.